G.P.S Spy Tracking Cell Phone With Data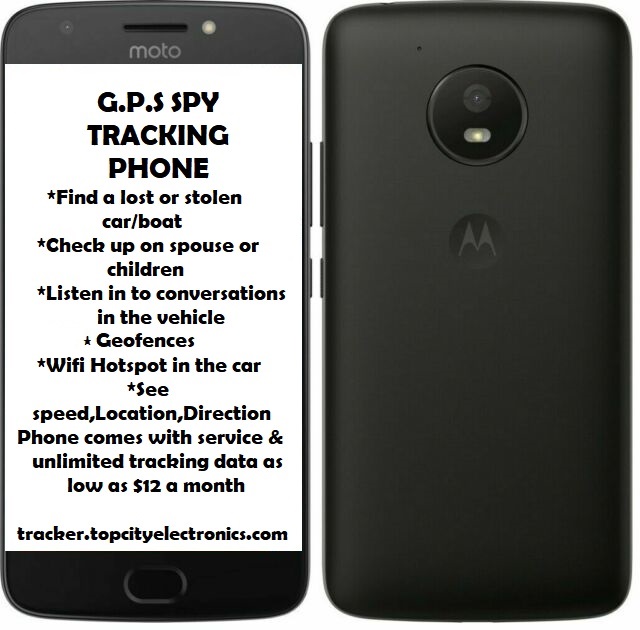 Why is the tracking cell phone much better than other
trackers?
OBD2 Trackers are large and EASILY SPOTTED & REMOVED.
OBD2 Trackers plug into the OBD port of your vehicle and are the first thing a person would look for. Most Trackers Charge Extra for tracking & Tracking updates as fast as 5 seconds. The app on this phone allows Tracking updates as fast as 5 seconds. Other trackers do not come with data. With this phone you can choose data only. data and calls & Text. Great to have an emergency phone in your car, if you forget your main phone.

Phones are preowned or referbished. You will receive phones that are in stock at the moment. Usually Moto E4. Data works were ever Sprint Network is available.
FEATURES
*Easily hidden from site. (Unlike OBD2 Tracking Devices) You can Wire the 12V plug to a constant 12V source for continuous tracking or just plug it into your lighter plug. Track your partners whereabouts. Just place the phone under a seat or in the trunk.

*Remote Control Available. Hide it and forget it. Remotely control the phone from your PC, or another phone.

*Remote Listen In. Set your phone number in the app, hide the phone, text a code to the phone, or call it, it will answer and then you can hear the conversations around the phone without anyone knowing.

*Geofences.Phone is connected to IFTTT for geofences, Receive Exit/Enter notification by Email, Text, Phone Call. Connect a bluetooth OBD2 to the phone for live auto information through Torque app. Coolant Temp. RPM & more.

*Alarm On Vibration. Know when your vehicle is bumped, or someone has entered or driven the vehicle.

* Recieve an email on low battery. Send an email if AC adaptor is disconnected.

* You can choose to have the phone power up when the vehicle is started, Or have it powered on all the time.
(choice must be made at time of purchase)

*Unlimited 2G data for the paid month. Unlike other tracking devices.

Tracking App Features
YOUR PHONE NUMBER WILL BE CREATED BY THE ZIP CODE ON YOUR BILLING ACCOUNT. IF YOU NEED A DIFFERENT AREA CODE, PLEASE EMAIL US AFTER PURCHASE. THIS ITEM SHIPS WITHIN 5 BUSINESS DAYS

You can wire the12V plug to a constant 12V source for continuous tracking, or just plug it into your lighter plug.

TRACK A CHEATING SPOUSE

TRACK YOUR VEHICLE.

FIND A STOLEN VEHICLE.

TRACK YOUR PARTNERS WHEREABOUTS.
(Just place the phone under a seat, or in the trunk.)
*5 second tracking updates.
Choose to send tracking information continuously or only when someone is viewing (Saves Data)

*Remote controls include, Start and stop wifi, GPS, Tracking Service, Get location by SMS & more.Tracking software turns on after a phone reboot
send messages from your browser directly to the phone (Good if using to track another person)
Allows you to send invites for others to track your location.
Remote SMS commands to start & stop tracking software.
Low GPS interval settings from every 5 seconds if you choose.
Shows elevation, speed, direction, Battery power remaining, longitude & latitude
And more. Very stable software.

Backup tracking software included for Business users.(Lyft,Uber,Cab,Delivery) includes everything needed for business tracking. (mycartracks-gps managment)



First Month of data 100 Min talk & free Text included. After that, 3 monthly choices

1. 500MB of data only then unlimited 2G $12.00 per month.

2. 500MB then unlimited 2G and 100min of talk & free text $14.00 per month

3. 1GB Data then unlimited 2G and 100min of talk & free text $16.00 per month.

Monthy bill can be paid through PayPal with a credit or debit card. Cancel anytime. Start or stop service
anytime you like.
We also use these phones for tracking, so support is an email or chat away.
144.7 x 72.3 x 9.3 mm (5.70 x 2.85 x 0.37 in)